'Uncle' Eddie Brookshire
"Uncle" Eddie Brookshire
Bass
"Uncle" Eddie Brookshire is one of the most dynamic and in demand bass players in the Cincinnati/Dayton area. He grew up in Carthage, Mississippi where he began to playing the bass at the age of 21. He received a Bachelor of Music in jazz studies from Central University in Ohio and a Master of Music in world music studies from Northern Illinois. He is one Ohio's foremost music educators and is currently an adjunct professor of jazz bass, improvisation, and jazz combos at the University of Dayton and Sinclair College.
He is also a music scholar and has published several articles including one that discusses the relationship between music and math, as well as one discussing the phenomenon of music and technology. Eddie is an active member of the International Association of Jazz Educators as well as the African-the American Jazz Caucus and big band. He is also the founder and leader of his own organization entitled the Eddie Brookshire Big Band. In 2011, Eddie's own Quintet was voted Best Local Non-rock Band or Musician in Dayton, OH in Active Dayton's notorious "Best of" competition. 
Over the years Eddie has traveled the globe playing with some of the most prominent jazz artist in the world, such as J. McShan, Snooky Young, Woody Shaw, Johnny Lytle, James Newton, Sondra Reeves-Phillips, Nathan Davis, Piney Brown, Rusty Bryant, Billy Harper, Benny Maupin, Azar Lawrence, David "Fathead" Newman, Dave Fielder, the Coasters, and in 2000 he played with his all time favorite Elvin Jones. Eddie filled in for Jones's bass player whose plane was delayed and Jones ended up offering Eddie the bass spot in his group. Eddie respectfully declined to avoid the drastic lifestyle change that constantly traveling or moving to New York would entail.
Eddie has been a vegetarian for over sixteen years. He says that he was first inspired by the Bible to stop eating pork. He soon decided to quit eating meat all together. Growing up in the south, he explains that he had alwaysed loved to eat a large amount of fresh fruits and vegetables and that he felt much better after eliminating flesh from his diet. 
"Music is my spiritual calling." -"Uncle" Eddie Brookshire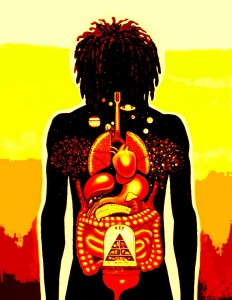 Eddie's Links